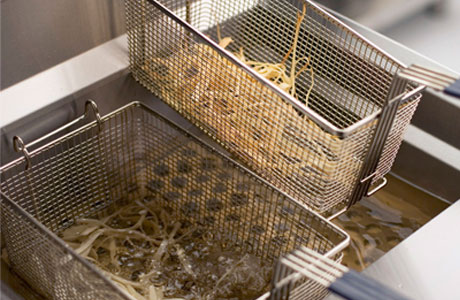 1. What is the new Waldorf 800 Series?
The Waldorf 800 Series range of cooking equipment delivers more features and combinations, which enables more options and unlimited creative possibilities. Cleaner lines and consistency in modular design across the entire range ensures the units fit together to create an almost seamless workspace. The industry preferred 800mm depth ensures efficient use of space, while easily accommodating the advanced performance features that define the 800 Series.
Manufactured in New Zealand by Moffat, the Waldorf 800 Series offers the best of both worlds. It combines the robustness and performance typically found in American equipment with the refinement so often associated with the European equipment.
2. Explain the features of the fryer and why a foodservice operator should choose this machine over other brands?
To deliver continuous high volumes of fried food and cope with peaks in demand you need a high performance fryer. One that occupies less floor space and less hood space is the Waldorf Fast Fri fryer. This fryer is able to achieve greater performance and output levels than two standard fryer combined.
3. Can you give us an idea of the energy efficiency of the fryer?
The Waldorf 800 Series fryers include a super efficient blower system that pushes greater volumes of air and gas through specially designed ceramic fibre burners. Producing an intense, even infra-red heat the burner system ensures more heat energy is absorbed by the oil.
The results are lower flue exhaust temperatures and more importantly, lower production costs per kilo. The Waldorf 800 Series range of fryers is available in single or twin pan capacity as well as gas or electric models.
4. How much space does the machine need? What kind of foodservice operation is it suited to?
Waldorf fryers have long set the benchmark for durability, speed and economy. The 800 Series builds on this tradition with a redesigned range of fryers available in 450 or 600mm single or twin pan versions. These units are utilized in anywhere from a small café to a large production kitchen.
5. What is the capacity of the machine?
Purpose designed to offer continuous production of up to 60kg/hr, Waldorf Fast Fri HPO fryers have a superior recovery rate avoiding downtime waiting for oil to reach the ideal frying temperature between batches.
6. How easy is it to install?
Equipment requires connection by a licensed gas fitter.
7. Does it have any special safety features?
Standard safety features include oil level and over temperature safety cut-outs.